Salvage yards are the perfect place to responsibly dispose of broken or unused boats. Some of the best salvage yards will have eco-friendly solutions. This means that you are able to bring an old, broken, or non-functional boat and boat parts to a salvage yard, where they will be recycled, and in some cases repaired, restored and sold.
Salvage yards are also a great place to buy scrap metal, and any second-hand boat components you may need for your own boat.
In this guide, we're going to look at some of the best salvage yards that you can visit across the U.S. and Canada.
What are Boat Salvage Yards?
If you have an unwanted and unused boat that's been sitting in the marina, or your garage then bringing it to a salvage yard is a responsible way to deal with it. It's also a safe way to dispose of your boat if it may have suffered any damage from hurricanes and storms. If you're also on the market to find some second-hand replacement parts, you can also pick them up at a reduced cost at salvage yards.
To put it simply, a boat salvage yard is a marine version of an automotive (car) scrap yard. They're the perfect place to start searching if you need to get any metal scraps, or second-hand parts. Boat scrap yards tend to have all sorts of boating equipment like engines, lights, anchors and tables.
It's important to note that salvage yards are more than just boat graveyards. Most offer salvaging services, which means that they will remove the boat from its location. You will either have to pay for the service, or they may pay you, depending on whether or not what they are scraping has any value.
Best Best Salvage Yards in the U.S.
In this section, we're going to take you through some of the best salvage yards in the U.S. by state.
California
Where to find them: 1500 Newport Boulevard, Costa Mesa, CA 92627
How to contact them: send an email to

[email protected]
Minney's have over six decades worth of experience in the industry, and is one of the best places to find boat salvage parts in California. Although they won't come and retrieve or buy used boats, Minney's has everything you can imagine in their yard. From winches to spinnakers, they will cover all your yachting needs.
Where to find them: 3832 South Highway 99, Stockton, CA 95215
How to contact them: 209-466-9283
Marine Engine Salvage has been in the business for over 20 years. They're a great place to check out if you're after hard to find or used boat parts and engines which fill their 2 acre plot. They're also a "one stop shop" who specialize in sales, services, and repairs. On their website there's also a pretty handy parts locator request form so you can check if they have what you're looking for without having to travel there.
Where to find them: 2021 Alaska Packer Place, Alameda, CA 95401
How to contact them: (510) 769-4858
Working out of the San Francisco Bay Area, Blue Pelican Marina has everything you need if you're looking for used boat parts. They have a wide variety of marine equipment available, from anchors, spinnakers, winches and rigging, to safety gear (see also '6 Of The Best Life Jackets For Sailing: Complete Guide'), sailing gear and charts and collectibles.
Florida
Where to find them: 222 West King Street, St. Augustine, FL 32084
How to contact them: 1-904-808-0667
Sailors Exchange has a mission to make and keep boating affordable. Here, you can buy, sell, and exchange marine equipment, including new or second-hand boats. They have almost anything that a boating enthusiast needs, including mechanical, hardware and electrical equipment. You will also be able to check out their website, or visit them in-person for some of the hard to find items you might be looking for.
Where to find them: 3000 South Andrews Avenue, Fort Lauderdale, FL 33316
How to contact them: 1-954-522-6716
Sailorman is the self-proclaimed world's largest marine emporium! Their shop resembles something more of an antique shop than a traditional marine outlet, but you're sure to find nautical treasures that you won't come across anywhere else. From runabouts to mega yachts, the Sailorman has second hand boats that will fit every budget. You can also buy, sell, trade an extensive range of marine equipment.
You can also pop into the store on Friday afternoons to experience "Aloha Fridays." Eat food, drink punch, and get ready to kick your weekend off right.
Where to find them: 5601 126th Avenue North, Clearwater, FL 33760
How to contact them: 1-727-576-8577
Don's Marine Salvage has 17 acres of space which is filled with all of the second hand marine parts you could imagine. It first opened its doors in 1979 and has built up a solid reputation in Florida. Whether you're looking for new or used boats, check out Don's.
Where to find them: 7070 15th Street East, Sarasota, FL 34243
How to contact them: (941) 758-3552
The original Marine Surplus, established in 1983, has all the second hand parts you will need, from anchors and engine rigging, to dash panels and bimini tops. The great thing at Marine Surplus, is that you don't even have to be in Florida to shop from them. Just head to their website where they offer free shipping anywhere in the U.S., Hawaii, Alaska, and Puerto Rico.
Illinois
Where to find them: 14 North 2nd Street, Altamont, IL 62411
How to contact them: (618) 487-9499
Southcentral Outboards may not buy boats, but they will purchase almost any scrap metal – especially in bulk. They also specialize in new, used, and hard to find marine parts, and boast that they will pay more than scrap price. Just give them a call, as they'll even come to your location to have a look at what you have. They also sell a whole range of marine parts, including fuel and oil systems.
Southcentral Outboards is a relatively new company, founded back in 2008, but they really pride themselves in being a small operation which puts the customer first.
Louisiana
Where to find them: 6440 West Bank Expressway, Marrero, LA 70072
How to contact them: 1-504-340-3175
This is one of the largest used boat dealers in all of Louisiana, as they have more than 200 vessels in their inventory. On top of that, The Boat Yard has almost everything a boating enthusiast could need, including center consoles, offshores, and wakeboards. In addition, they pay cash on the spot for any boat that they salvage, and have a 100% free consignment program if you're looking to sell.
New York
Where to find them: 14 Deer Park, NY 11729
How to contact them: 1-631-544-8000
This company is definitely worth checking out, especially as they will remove complete boats at no cost to the customer. They even pay out cash for boats that were made in 1995 or later. Check out the Boat Dump if you're in the New York area and looking to purchase boat parts like trailers, outdrives and outboards.
Where to find them: 24 Post Place, Babylon, NY 11702
How to contact them: 1-631-661-5366
The Great Bay Marine may have only been around for two decades, but in that time they've managed to build quite the reputation for themselves in sales, marine service and boat rentals in Long Island. They're also one of the largest Robalo dealers in the country, and also deal in Steiger Crafts, Monterey boats and Mercury engines. They also have an incredible service department if your boat is in need of some fine tuning.
North Carolina
Where to find them: 1315 Turner Road, Lexington, NC 27292
How to contact them: 1-336-413-8882
At Bull's Marine, they will send a colleague out to evaluate your boat. From there, they'll inspect your boat and engine to determine what can be done about it, and what the value is. Bull's will always offer a fair price, and will always recycle the parts that are salvageable. If you are in the market for cheap parts, Bull's has everything you need to build or modify a boat.
Where to find them: 5161 Richlands Highway, Jacksonville, NC 28540
How to contact them: 1-910-330-7442
Fountain's is a great place to stop by if you're having any trouble with your boat, as they have a servicing team that can assist you in any way. They also purchase and sell a wide variety of boat parts – just contact them to see if they have what you need.
Texas
Where to find them: 21010 Mockingbird Lane, Spicewood, TX 78669
How to contact them: 1-210-601-6118
From faulty engines to sunken boats, Bradwell Boats buys almost anything. As well as removal, they offer a wide variety of services, including hauling. On their website you can find a huge array of inventory, which includes pre-owned boats and parts (see also 'The Parts Of A Boat That You Need To Know'). Bradwell is the perfect place to shop if you're looking for cheap parts.
Virginia
Where to find them: 16228 Neabsco Road, Woodbridge, VA 22191
How to contact them: 1-703-670-0080
If you need an emergency response, or help refloating a sunken boat, then Potomac Marine can offer you a helping hand. As well as salvaging boats, they also sell a lot of popular marine products, including Honda, MerCruiser, Volvo Penta and Mercury marine parts and accessories. They also have an in-house servicing team that provides seasonal and preventative maintenance and repairs.
Wisconsin
Where to find them: 830 East Green Bay Street, Shawano, WI 54166
How to contact them: 1-920-4450-8995
American Marine & Motorsports has been in the business for more than 30 years, and they have a wide selection of boats that fit every budget. You can also get a wide range of second hand parts, including cheaper parts from salvaged boats. They also have financing options if you need a little help paying full-price for something.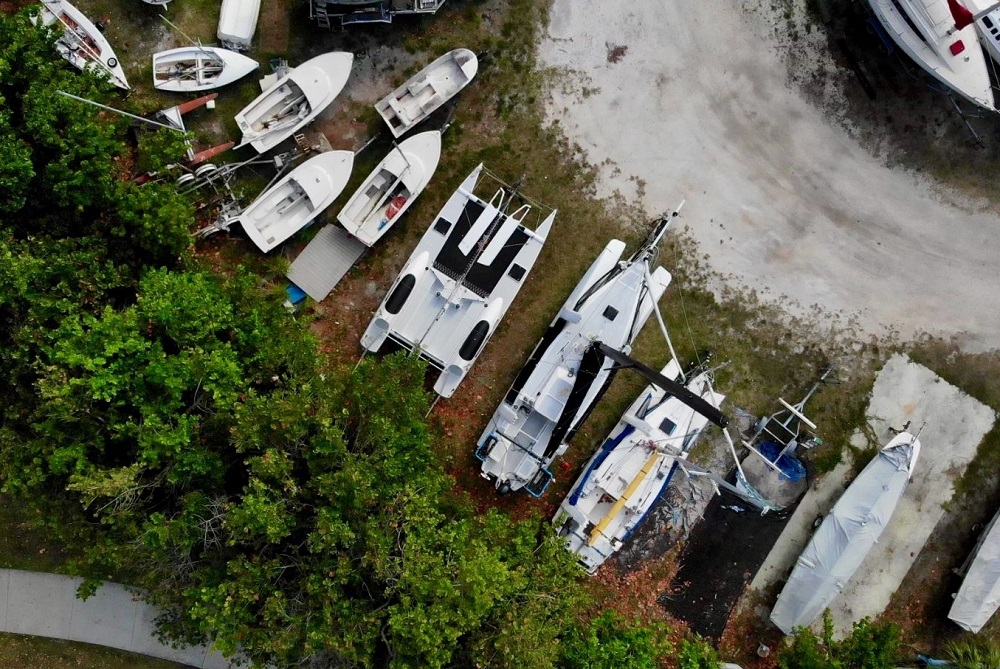 Best Boat Salvage Yards in Canada
British Columbia
Where to find them: 1044 Seamount Way, Gibsons, British Colimbia
How to contact them: 604-886-3326
This is one of the biggest marine retailers on the Sunshine Coast, and they have offers on both new and used boating equipment. Get good deals on selling old boat equipment too! You never know what nautical treasures you might find at The Bitter End Exchange, so don't hesitate to check them out.
Where to find them: Salmon Arm, British Columbia
How to contact them: 205-306-7892
For over forty years, Premium Marine Wreckers has offered a complete boat recycling solution. Whether they salvage, or you sell, you get a great deal with them, and it can really help you make the most out of an old boat. As well as selling a wide variety of marine equipment, they also provide both long and short-term boat storage.
Ontario
Where to find them: 9 Wychwood Crescent, Fenelon Falls, Ontario K0M 1N0
How to Contact them: 705-559-4191
Operating out of the marina in Southern Ontario, Kawartha Marine will buy or salvage any boat including run-abouts, intact boats, aluminium, wooden, and steel. They pride themselves in being a green boat solution, as they want to make sure that no boat ends up in landfill. So far, they have recycled over 3000 boats alone.
You can also purchase used boat parts at a reduced cost. Most of the parts come from boats that Kawartha has recycled.
Where to find them: 2858 25th Sideroad Innisfil, Ontario, L9S 3T6
How to contact them: 1-705-436-2628
Sandy Cove Marine has been in the business for over 50 years, and has a huge selection of used boats and boating products on offer, as well as offering a substantial number of different brands – Sandy Cove has everything you could possibly dream of. They also offer a wide variety of services, including repairs, cleaning, storage and winterizing.
Why Should You Use a Boat Salvage Yard?
Boat salvage yards are more than just a place to dump an old and wrecked boat. Here, are some of the more enticing reasons as to why you should bring an old, damaged or unused boat to a salvage yard:
Good for the Environment
Old boats can be serious environmental hazards, that's why it's your job as a responsible boat owner to dispose of your boat properly. If left unattended, an old boat can suffer from oil leaks, and their parts can damage coral reefs and the marine wildlife that inhabits them.
Do not let your boat stay on the water longer than necessary, otherwise this will negatively impact the water quality and seriously harm marine life. Once your boat has reached the end of its life/service, contact a boat salvage yard. Most will come and collect the boat directly.
Earn Extra Money
If you have a boat lying around that you no longer use, you can make some money off of it by selling it to a salvage yard. You might not make a fortune, but some salvage yards will pay anything for valuable boats that still work. You can also make money off of scrap metal and working parts.
Free Space
Boats aren't the easiest things to store, so if you have a boat that's no longer in use, you can free up some space by contacting a salvage yard who will come and take care of it for you. Not only will you have the extra room, but you'll also have a little extra in your pocket.
Avoid Legal Troubles
Depending on where you live, and what the laws are, you can get in a lot of trouble for leaving a boat in the water, or for not disposing of it properly. To avoid any legal issues, and to responsibly get rid of your boat, it's worth bringing it to a salvage yard.
How to Find the Best Salvage Yards
Look for salvage yards that are close to the location of the boat, as it can be difficult and expensive to haul boats over long distances.
Research a salvage yard before you do business with them. Have a look at their website, read online reviews, and speak to people who have used them in the past to get their experiences.
Find one that gives you the best deal. Always negotiate so that you won't get ripped off.
Be clear about the conditions, as some salvage yards add additional costs. Try and get in writing what they're going to do and exactly how much they're going to charge – especially if they're coming to collect your boat themselves.
Final Thoughts
If you're looking for a responsible way to get rid of an old, or non-functional boat, then it's definitely worth looking into salvage yards. The best salvage yards will recycle your boat properly, and offer you a fair deal on what you're offering.